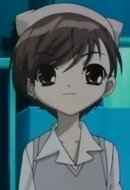 ---
Takeya's little sister, who has been away overseas. She cozies up to Ren at first, but after hearing Ren refer to herself as Takeya's "slave", she starts to hate Ren, and pummels her big brother for "being a pervert". This is a significant change from the stereotypical "cute little sister" character prevalent in anime.
Ad blocker interference detected!
Wikia is a free-to-use site that makes money from advertising. We have a modified experience for viewers using ad blockers

Wikia is not accessible if you've made further modifications. Remove the custom ad blocker rule(s) and the page will load as expected.